INTRODUCTION TO CUT&FOLD Paper Art
If you're a parent like me, at some point you've probably been asked by your kid or a teacher to come into class to talk about your work, or host an activity. I did it a few times with moderate success, not being organized well enough, realizing on the spot that keeping the attention and interest of 20 excited kids is easier said than done. Teacher and educators have all my respect! So with these experiences in mind, I started to think of material I could bring the next time.

I've designed this set to be used in group workshops, by people of all age and skill level. You can very well use it at home, just by yourself or with larger groups. It can be both an individual and a team activity.  Different parts can be done according to each individual's interests, then combined into a common project.
This set is an introduction to my cut & fold architecture series.
The designs are very simple and assembly is straight forward.
Cutting is easy and can be done with scissors which makes it suitable for kids of any age.
All models use only one or two dots of glue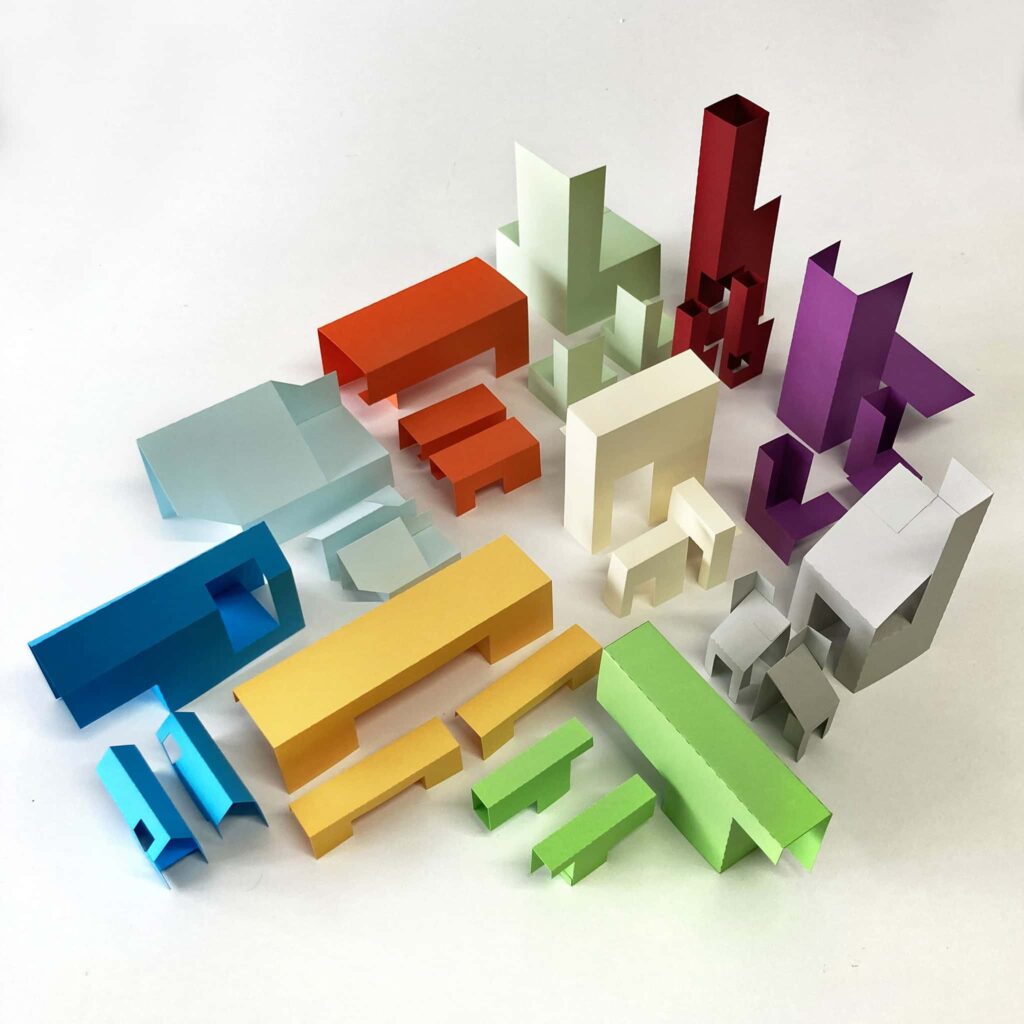 10 architectural Cut & Fold & Glue designs
-Assembly instructions in PDF format for each individual model
-Template files in PDF format that you can print at home and cut with scissors or with a precision knife
-Template files in DXF vector format that can be used with cutting plotters (Cricut, Cameo, etc.) or laser cutters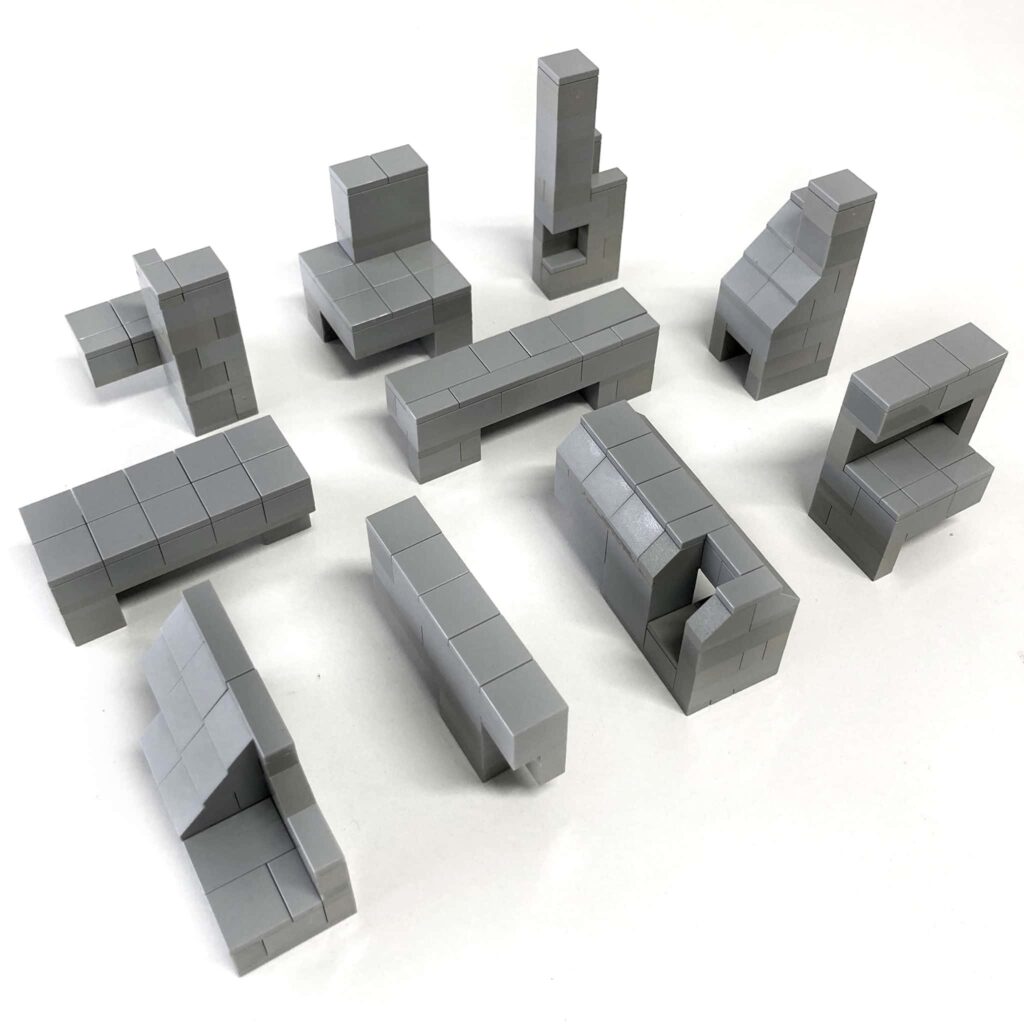 10 brick models
-Building instructions in PDF format for each individual model
In addition to the regular templates, I have also included a version with a squared grid, showing the grid on which the models were designed. I have included them fora few reasons:
-The grid provides reference lines that can help align the folds when gluing the pieces together.
-They are fun to color in a pixel-art fashion
– They show how the pieces were designed and can be used as references for creating one's own designs. Additionally, blank grids have been included for this purpose.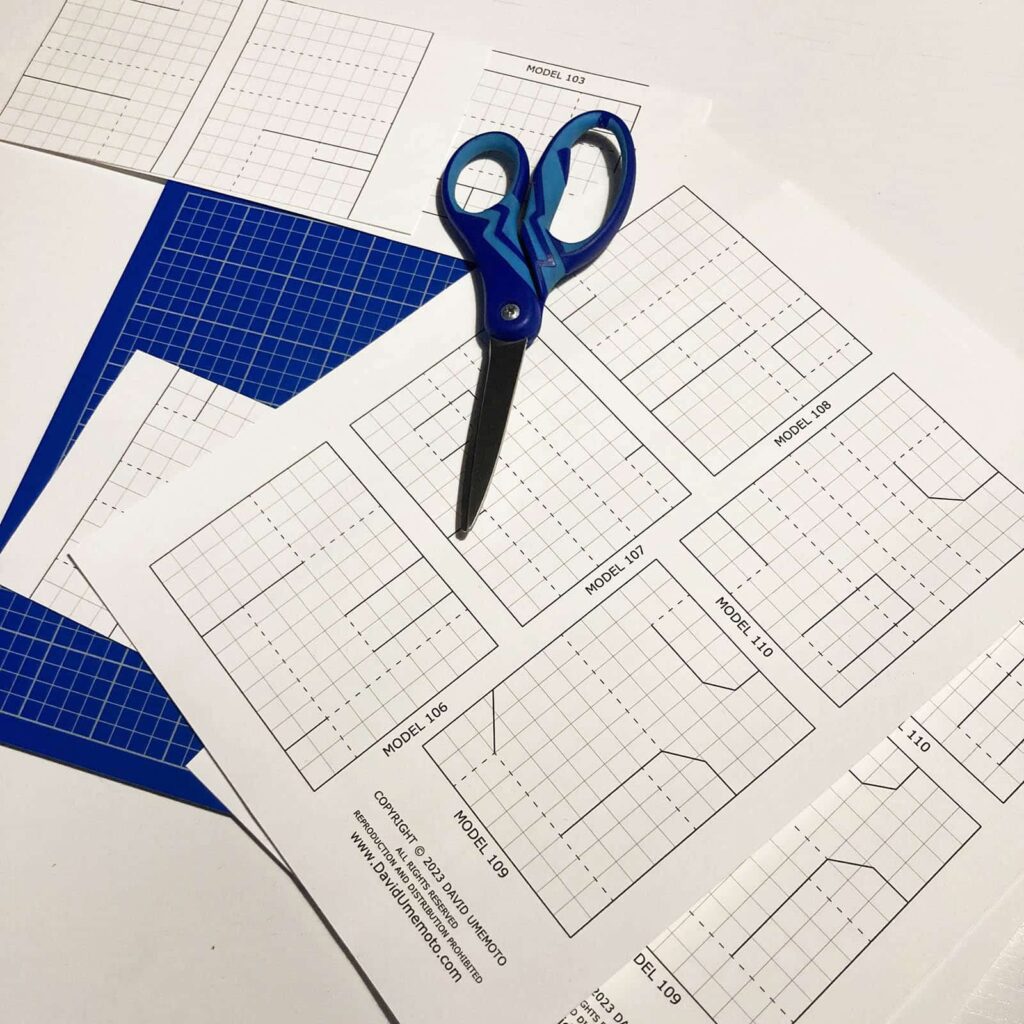 This is the craft part, which requires some precision and dexterity.
The models are numbered following the difficulty level. Although all models are very accessible, the first ones should be easiest.  In the print layouts, I have included both a small and large version. For younger children, I suggest giving them the larger print layouts, as they will be easier to cut and assemble.
If you want to avoid/skip the creasing step, you can use paper instead of cardstock. The models will lack some structure, but it can be a valid alternative for the younger ones.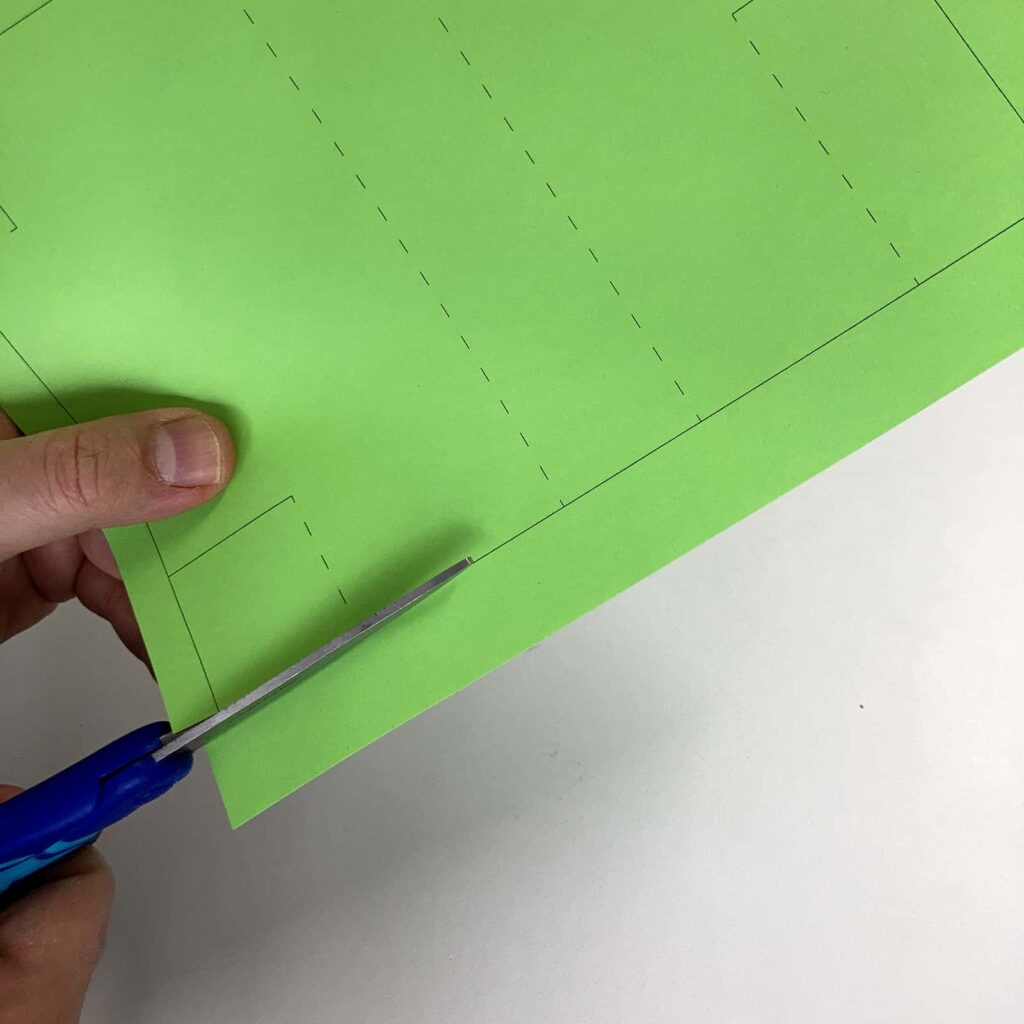 ADDING DETAILS AND COLORS
2D artists can add details and color. This can be done before or after folding the templates. Use the plain ones to go freestyle or the squared ones if you prefer pixel-art style.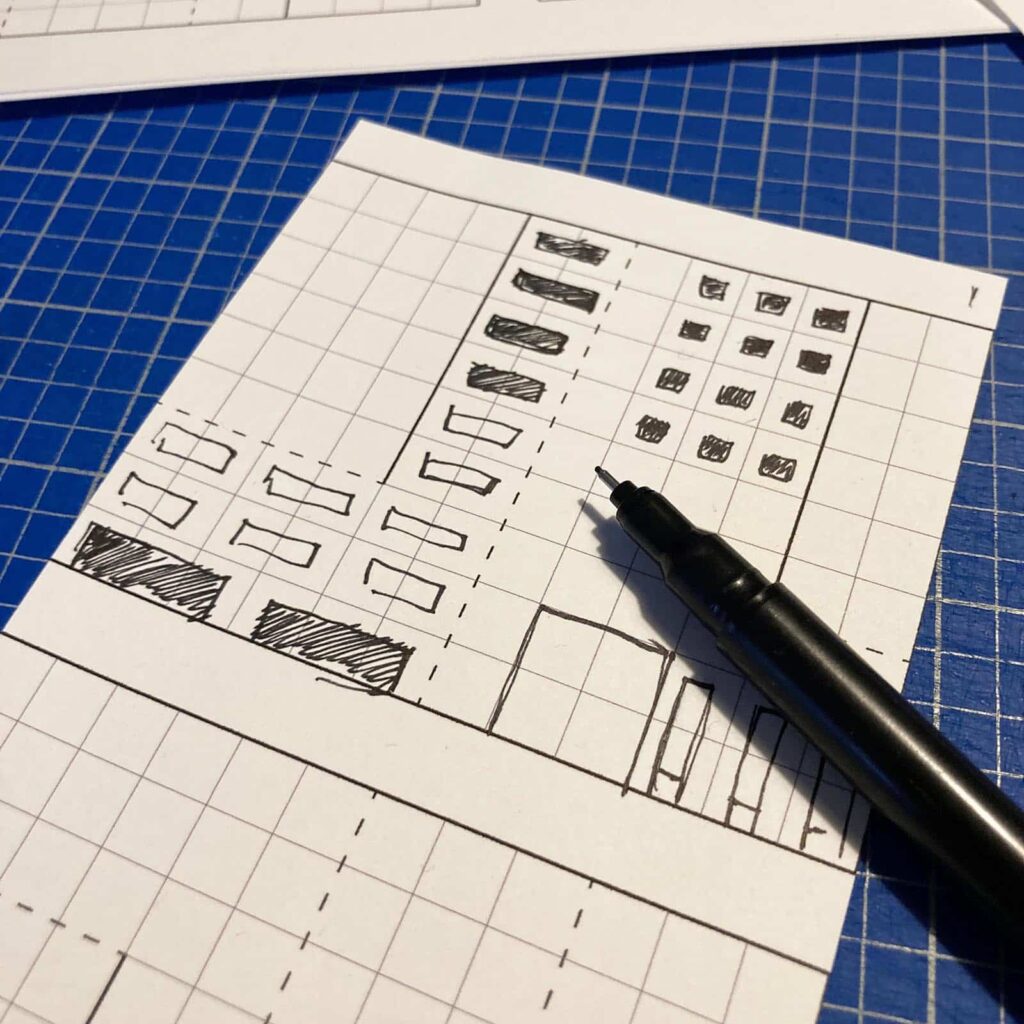 BE CREATIVE, MAKE YOUR OWN DESIGNS
For those who feel creative, why not try designing their own models? Use one the blank templates included in the set.
 If you want your creations to fit with the included paper models or building bricks, make sure to cut and fold only on the grid lines. You should also print them without resizing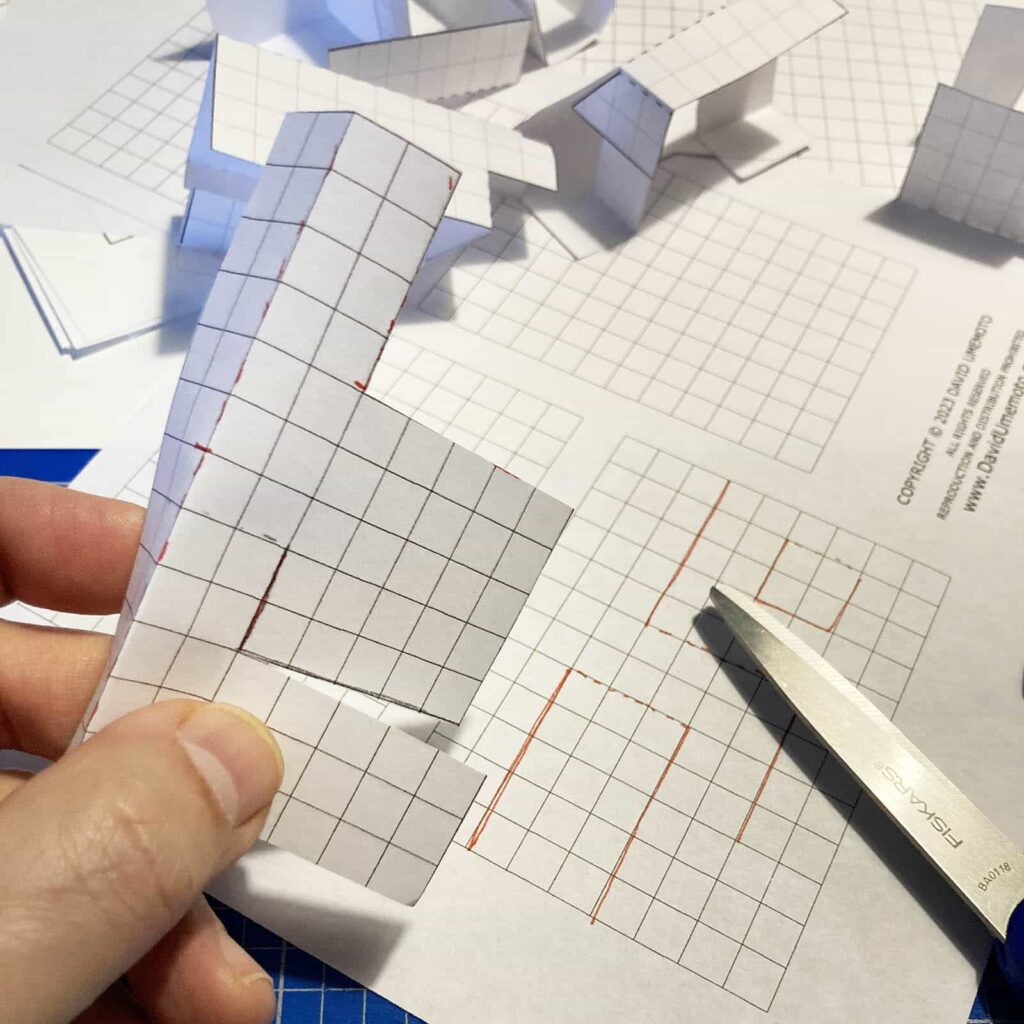 MIX THE PAPER AND THE BRICKS
If you print the PDF templates without resizing, they will be at the same scale as standard building bricks, meaning you can mix them together.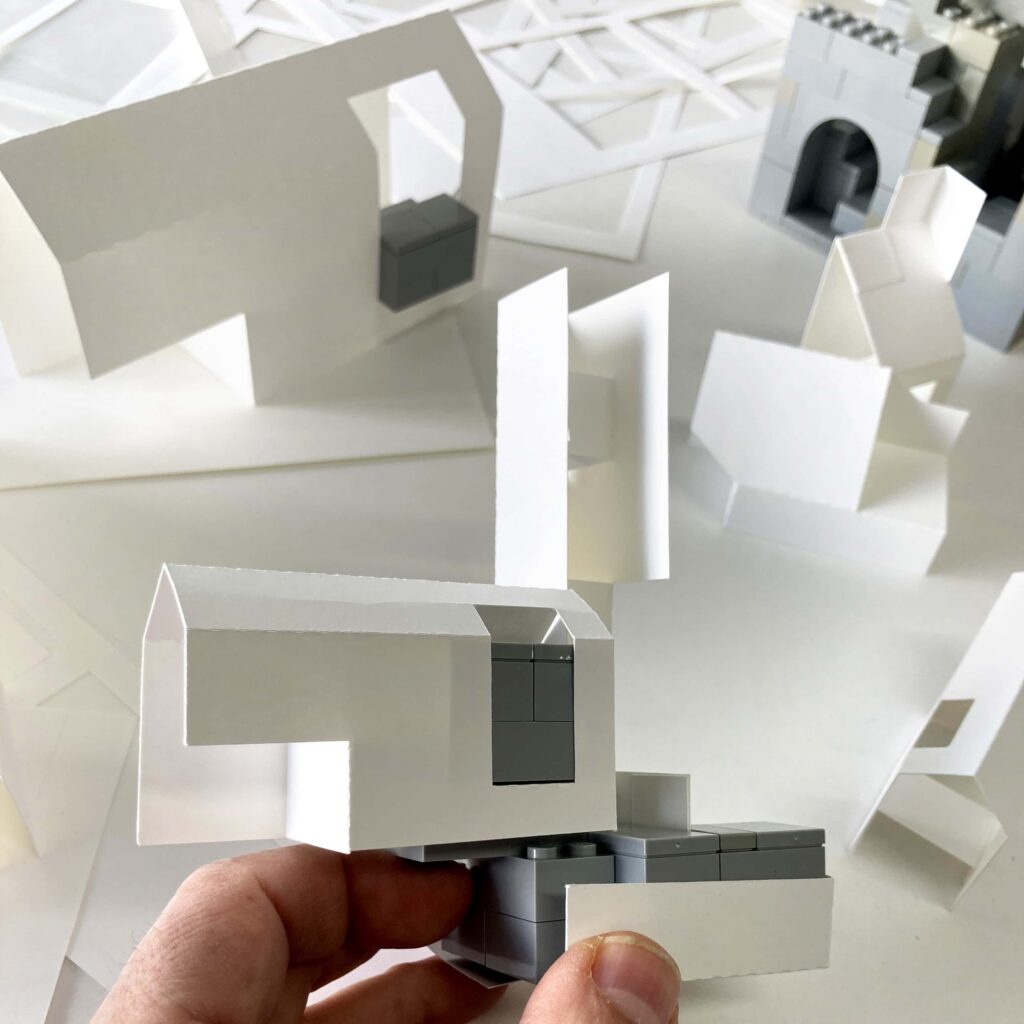 The brick models are not exactly the same as the paper models. I took the liberty to adapt them in order to simplify their assembly but also to make them modular.
 That way, you can play and combine them as you would with the paper models.  I have included the building instructions and part list in PDF format.
SHARE YOUR COMMENTS AND EXPERIMENTATIONS
If you come up with nice creative results, I would be more than happy to see them! Please feel free to share your links in the comments section.